Back in 2012, I attempted an original character I called Ralphie.  I loved the design I had in my head but it just didn't seem to translate into the puppet.  It was big, bulky, and awkward.
A few months back, I decided to rebuild the puppet as I had wanted it the first time.  I put a lot of work into each stage of this build.  Many prototype puppet heads and bodies were made and sacrificed for this project.  I even put in entrance rings in the base of the foam skull and the base of the body with a mesh sleeve inside for comfort.
The first thing I wanted was a distinguished fur look.  So, I boiled and textured the original type of fur to give it a more matted look.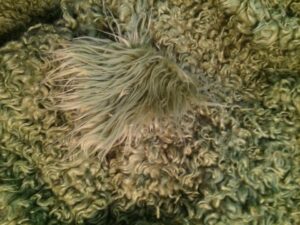 As always, I can be contacted through email at sharklink@aol.com    I hope you've enjoyed seeing a bit of my process.